| | |
| --- | --- |
| | |
---
Posted: 28 May 2013 05:00 AM PDT
Turtle Rock Pointe Condo – It's all about the view!
10 Sarena $849,000
Last week I visited a single family home in Woodbridge at 12 Silkleaf that had 4 bedrooms and 2.5 baths. It was in the same price range as this Turtle Rock 2 bedroom, 2.5 bath condo. Both are well maintained, inviting properties with distinct asset lists that will attract totally different buyers.
Driving into the gated community at Turtle Rock Pointe, it was hard not to marvel at how quiet and secluded the area was. 10 Sarena #52 is neatly tucked into a quiet spot. Then when you step inside, you get the message. It's all about the view. As a JM Peters home, the location dictates design in this elegant condo that makes the most of canyon, hills and golf course views with a sweeping two level floor plan, and bricked patio.
Significant Numbers: New to the market, this 2 bedroom, 2.5 bath condo was built in 1985. It has 1830 sq. ft. HOA dues are $487 month with $/sq. ft. at $464.
CloseUp: Double doors open into a tiled entry leading into a huge light filled living room with cathedral vaulted ceiling and fireplace. Here's your ringside seat for entertaining, nicely linked to the bricked patio and view beyond. To the left, there is a formal dining area, then a snug breakfast nook with view and patio access, backed up by a small but sleek kitchen with handsome cabinetry and granite counters.
Upstairs, there are two bedroom suites and a good sized loft area that could be converted to a third bedroom, or used as a family room, study, library or office. The master suite has a double vanity and makes the most of the view.
Specifics:
Bedrooms, 2
Baths, 2.5
Attached Double Garage
Two parking spaces
Forced air heating, central air
Association pool, spa
Attached 2+ common walls
Slump stone fence, brick patio
Irvine Unified School System
What will be considered here? The private gated community in Turtle Rock Pointe, offering a top of the line view in a JM Peters home will be weighed against the price and the number of bedrooms. The loft could be converted to make a third bedroom. All bedrooms are upstairs, which can be a limitation for some buyers.
Who will move in? A couple or individual who values quiet and privacy, treasures the view, wants a key Irvine/Orange County location, and likes to entertain will be attracted to this property. The buyer will enjoy being near everything, but still nicely removed. Turtle Rock's natural setting, top schools and other recreational pluses all work too.
Recent listings: 16 Mirador #3, $899,000; 1 Del Rey #7, $1,024,000.
Recent sales: 3 Alejo. $740,000; 10 Del Rey #16, $1,250,000
Discuss on Talk Irvine: http://www.talkirvine.com/index.php/topic,3913.0.html
Posted: 24 May 2013 05:00 AM PDT
Yesterday, I reviewed 154 Kingswood #117 in Northwood Pointe's Arden Square. This week, I will show you 143 Arden #72, which is located just across the street. Both have three bedrooms, 2.5 baths, and comparable pricing – they are actually the same model, but the floor plans are reversed. There is a slight difference in the entryway.
As it happens, there are two other similar units in the same neighborhood that also just came on the market – 71 Arborwood and 181 Kingswood #91. An interested buyer should definitely tour all four properties, since the size and pricing is nearly identical on all of them. As of May 20, 154 Kingswood is listed as Pending on Redfin. 143 Arden had previously been in escrow but fell out right before they relisted it, which accounts for the longer time on the market.
Here's a closer look at 143 Arden.
The basics:
Asking Price: $799,800
Bedrooms: 3
Bathrooms: 2.5
Square Footage: 1,700
Lot Size: 3,200
$/Sq Ft: $470
Days on Market: 40
Property Type: Detached Condo
Year Built: 2001
Community: Northwood Point – Arden Square
HOA dues are $114 per month and Mello Roos is $600 per year.
This house has a very long driveway that leads to a two car garage. The driveway could fit four cars, a plus since there is little street parking.
The house opens to a small entryway, with the kitchen on the right and the living room ahead and to the left. Like the Kingswood property, this kitchen has white melamine cabinets. However, while Kingswood had granite counters and nice tile floors, the Arden home has white tile counters and plainer white floors. This kitchen has a large eating area and a big opening that looks into the dining and living rooms.
143 Arden has carpet in the living and dining rooms, in contrast to the wood floors in Kingswood. The carpet is in pretty good shape. The fireplace is surrounded with nice tile and there is a niche for the entertainment center but, unlike Kingswood, it doesn't have a built-in unit.
The downstairs bath has a pedestal sink and there is a large closet under the stairs. The backyard is pretty small and fully hardscaped, with some bushes around the edges. It is very similar to the Kingswood yard.
Both secondary bedrooms are carpeted and have two-door sliding closets. The carpet is much nicer and plusher than in the Kingswood bedrooms. The shared bathroom is quite similar, with nice tile floors, white melamine cabinets, a solid surface counter, and a shower/tub combo.
The master bedroom has the same carpet as the others and a large walk-in closet. The bathroom has nice floors, but has white tile counters and melamine cabinets. The shower is also white tile.
Overall, Kingswood has more upgrades in the kitchen and bathrooms and has wood floors downstairs where Arden has carpet. Upstairs, Arden's carpet is nicer than Kingswood's. I also prefer Arden's location, which is on an outside corner as opposed to Kingswood's inside corner. It also backs to a residential, single-loaded street, so there isn't a house directly behind it. Kingswood backs to another home with very little space between them.
Which one would you choose and why?
Open House Review: 154 Kingswood
Posted: 23 May 2013 05:00 AM PDT
Last weekend, I went to look at a house in Northwood Pointe's Arden Square neighborhood. I ended up seeing a second house, also for sale, right across the street. I visited both, and will review one today and the other next week. The first one I saw was 154 Kingswood #117.
The basics:
Asking Price: $799,000
Bedrooms: 3
Bathrooms: 2.5
Square Footage: 1,700
Lot Size: N/A
$/Sq Ft: $470
Days on Market: 9
Property Type: Detached Condo
Year Built: 2001
Community: Northwood Point – Arden Square
HOA dues are $118 per month ($78 + $40) and there are Mello Roos taxes. Northwood Pointe has a fairly low rate for Mello Ross. The realtor for the house across the street said it was only $600/year, so this is likely the same.
As I drove through the neighborhood, I quickly found myself frustrated by the lack of street parking, as much of the curb space is marked Fire Lane. However, I did find one spot right out front. I also noticed that many of the houses, including 154 Kingswood, have long driveways that could fit three or four cars.
Inside, there is a small entryway that looks into the living room and dining room. Though the current owners have the living room area towards the front, it actually makes more sense to put the dining room at the front and living room at the back. Toward the back of the room, there is a small, built-in entertainment center. There is a fireplace in the middle. The rooms aren't too big, but lots of windows bring in plenty of light and there is attractive hardwood flooring.
The kitchen is through a doorway to the left at the very front of the house (another reason why the dining room should come before the living room). It has granite counters, tile floors, and white, melamine cupboards. There is ample space and room for a small dining table. Above the sink, a large opening in the wall provides a view into the living and dining rooms so the kitchen doesn't feel too closed off.
At the back of the house, there is a small half bath with a pedestal sink. The home has a small backyard that is fully paved, with a couple of trees along the edges.
Upstairs, there are three bedrooms. One is set off by itself on one side. This room has hardwood floors and a two-door, sliding closet. It's a good size and I liked the privacy of it. The other secondary bedroom faces the back of the house. It has carpet and a mirrored closet. These rooms share a small bathroom with one sink and a shower/tub combo. Like the kitchen, this bathroom has granite counters and white, melamine cupboards.
The master bedroom also faces the street. It's a good sized room for a condo and has a tiny balcony at the front. There is a walk-in closet and carpet that matches the other bedroom. The master bath has two sinks and a shower, but no tub.
The home is located on a corner, though it probably doesn't get too much traffic since there aren't very many houses down the street beyond it. It is in good condition and has nice upgrades. For a condo, the HOA fees are relatively low and do include a nearby community pool in addition to the main Northwood Pointe swimming pool complex. The price is in line with other nearby properties on the market.
Do you like the idea of a detached condo? What benefits do you see in buying one versus a traditional single family home?
This home is fully upgraded and currently vacant, so buyers will be able to move in quickly with little to no work. In addition to remodeled kitchen and bathrooms, the home has new wood floors, newer carpet, new windows, scraped ceilings, and a new roof. The biggest downfall I saw is that the house is located on a corner near a main entrance to the neighborhood, so there will be a lot of cars driving by. Noise shouldn't be an issue, since it's not backing to any big streets; it just isn't a great location for kids to play outside.
Dark walnut, distressed floors were the first thing I noticed when I entered the house. The front living room is large, with high ceilings, so the floors just seemed to stretch on and on. The living room flows directly into the dining room, which also has a vaulted ceiling. At the back of the room, a window was converted to a French door that leads to the backyard.
The kitchen is bright, with multi-colored tile floors, updated white tile counters, and light wood cabinets throughout. The appliances are mostly stainless steel (the fridge is white), and include a completely flat stovetop for easy cleaning. The kitchen has an eat-in area with space for a six-seat table. There is not an island, but there is plenty of counter space and a large garden window brings in lots of light.
The family room is three steps down from the kitchen, but a large opening between the two rooms allows for easy visibility and doesn't make the kitchen feel closed off. The railings in this area look a bit widespread to me, so this may be an issue with small children. The family room has a built-in entertainment center in one corner, and the large, flat screen TV and surround sound speakers come with the house. The room also has a white brick fireplace, French door to the backyard and a small bar area with light green cabinets.
Also downstairs are a half bath and a laundry area. There isn't a door to the laundry area, so noise from the washer and dryer may be a problem to someone watching TV in the family room. The backyard has a small grassy area but otherwise is mostly hardscaped.
A wide staircase leads to four bedrooms off of one long hallway. The master is to the left. It is a big room with newer carpet and a ceiling fan. There are two steps leading up to the large walk-in closet (complete with built-in organizers) and the beautifully remodeled bathroom. The upgrades include granite counters, tile floors, and many drawers and cabinets that offer ample storage space. It has double sinks plus a vanity area. An old-style, stand alone bathtub sits in one corner. The separate stall shower is nicely tiled and has a seat built into one corner.
The other three bedrooms are all comparable in size. Two are carpeted, with ceiling fans and two-door, mirrored closets. The third bedroom was converted to an office, but still has a walk-in closet so it could still be used as a bedroom. It has hardwood floors that match those downstairs, a ceiling fan, a large built-in desk and many different built-in cabinets. This room also has a bigger window than the other two and faces front, rather than the side of the house, so it gets more light.
The secondary bedrooms share a nicely remodeled bathroom with a single sink and a shower/tub combo.
The house is just down the street from the community pool, spa, tennis courts, and tot lot. A greenbelt leads to the Hicks Canyon Trail and it's also a short walk to Sierra Vista Middle School. Northwood continues to have a lower price per square foot than most other Irvine neighborhoods. Do you think this one is a good buy?
Discuss on Talk Irvine: http://www.talkirvine.com/index.php/topic,3897.0.html
Posted: 22 May 2013 05:00 AM PDT
Summer will be here soon, and Irvine has some activities available for you and the family. They are listed in Irvine's summer 2013 edition of Inside Irvine.
"The summer edition of Inside Irvine is available online and was mailed the week of May 6. This features information about the Solar Decathlon 2013 and XPO; City summer concerts and activities; an article on the Irvine Open Space Initiative; our annual summer safety tips; summer camps and more!"
—City of Irvine
Upcoming Events
May 6 Summer Inside Irvine mailed; - registration begins
May 18 Runway Dash: 5k/Run Walk and 1 Mile Fun Run (OK, it's too late for this one, but if you are interested in this event, you can look for it next year.)
May 19 Learn to Swim Registration-Session 6, 7 & Saturdays in July
May 27 Memorial Day Ceremony
June 1 Studio Arts Festival
June 1 D.A.R.E. Event & Movie (Wreck-It Ralph) Heritage Park-6 p.m.
June 2 Orange County Super Pet Adoption
June 15 Parking Lot Rummage Sale
June 24 Summer Camps begin
June 28 Senior Fitness Expo
July 13-14 Bommer Canyon Family Campout
July 28, August 4 & August 11 Sizzlin' Summer Concerts
You can view Inside Irvine online as well as pick up a printed copy at any City facility, such as any City of Irvine library or City Hall.
To register online for the summer programs and activities, go to irvinequickreg.org.
Open House Review: 12 Silkleaf
Posted: 21 May 2013 05:00 AM PDT
Woodbridge Single Family Home - Nice Mix of Assets
12 Silkleaf $881,000
The South Lake area of Woodbridge is known for exceptional properties. And recently there has been a steady stream of million dollar plus single family homes and condos appearing there in open houses as the market goes up. Some have swooped in and out of the market at a record pace.
Thinking about this, I was curious to see this Woodbridge single family home, a little farther from the lake but still within the loop, in a lower price range. What I found was right in line with Woodbridge's pattern. The home has a distinct charm and covers a lot of ground.
Significant Numbers: Built in 1980 this 3 bedroom, 2.5 bath home is 2,050 sq. ft. on a 4,356 sq. ft. lot. The home is $430/ sq. ft. and HOA dues are $137. There is no Mello Roos. It has been on the market about 12 days.
CloseUp: From the curb this two story home has a strong presence. Inside, the entry opens to a good sized living room with vaulted ceilings and fireplace off to the left and a stairway straight ahead. The home has been upgraded and remodeled with travertine tile, partial carpet and laminate wood floors.
Moving through the home, the formal dining room leads to a side patio. Next comes an ample family room and gourmet kitchen.
The kitchen has granite counter tops, and stainless appliances and works as a unit with the family room which also leads to the patio. This is obviously a key area for family time and casual parties.
All of the bedrooms are upstairs, including an upgraded and expanded master suite that has a nursery/den/study room. It is currently being used as a nursery, which looks like a perfect solution for infant care. Later it could work as a home work/library retreat.
Specifics:
Bedrooms, 3
Baths, 2.5
Detached, no common walls
Double attached garage
Central heating and air
Association pool and spa
Irvine Unified School District
What will be considered here? The desirable Woodbridge area with key recreation and top schools paired with a comfortably sized, upgraded two story home will be weighed against the price. Other Irvine areas such as Quail Hill and Turtle Rock will compete, and the buyer will have to weigh individual priorities.
Who will move in? A young family will be attracted to the comfortable layout of this home which functions well for guests and family. They will also be drawn to top notch schools and the lake facilities. This home would also work for an active professional couple seeking a convenient Irvine location. Extra bedrooms might be used for guests, and the master suite would be an excellent retreat.
Recent listings: 2 New MDWS, $879,270; 15 Toscany, $899,000.
Recent sales: 31 Silkleaf, $725,000; 6 Fairdawn, $708,000
Discuss on Talk Irvine: http://www.talkirvine.com/index.php/topic,3885.0.html
Posted: 20 May 2013 05:00 AM PDT
The stock market and Irvine Housing Market are scaling new heights, setting a new normal each week. A year ago, I wrote about half-a-million dollar condominiums of Irvine, and today, I will list three condominiums that are almost a million dollars.
37 Canopy, Irvine CA 92603
Listing Price: $999,888
HOA: $207/ Monthly
Price/ SF: $476
Tract: Laurel, Quail Hill
This is a two level property. The main entry to the house is via formal living room. It leads to the dining room, which is attached to the kitchen and family room. The three garage opens to the family room. The staircase in the dining area leads to the four bedrooms upstairs. SMS covered the property in this blog post. Plus points are many for this property- the city lights, tight floor plan, nice community that is aging well (and three car garage too!) But the only drawback is lack of a bedroom downstairs. For a million dollars, I would want a bedroom with attached bathroom downstairs.
163 Great Lawn, Irvine CA 92620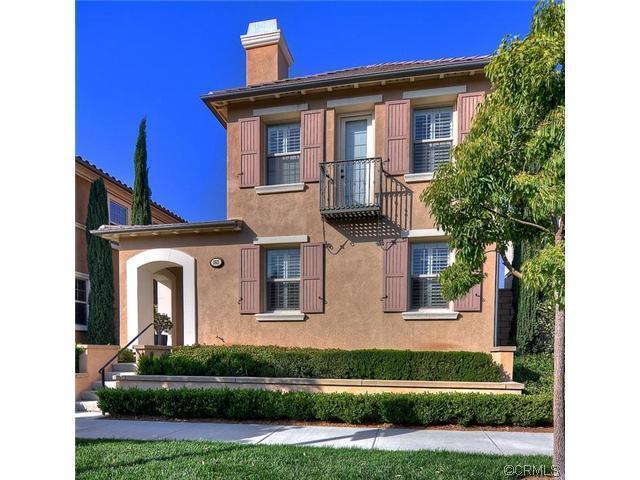 Listing Price: $975,000
HOA Dues: $268/ Monthly
Price/ SF: $424
Tract: Stonetree
A small entry room leads you to a great room- the kitchen leads to the fourth bedroom and garage on side, and patio on the other. Dining room also has an entry to the patio. The stairs lead to a very tightly laid our upper floor with three bedrooms. Overall, it's a nice floor plan trying to cover each and every need of the potential home owner. The house is very airy and bright also. Drawback..great room! Many love the great room concept, for close to a million dollars, I would love to see a formal living room in addition to the great room.
8036 Scholarship, Irvine CA 92612
Listing Price: $910,000
Price/ SF: $636
HOA Dues: $931 Monthly
Tract: The Plaza (5000 to 8000)
What can I say about the floor plan of an almost million dollar two bedroom condominium? Let's begin with "it's so UN-Irvine". It's not your typical Mediterranean looking floor plan laid out with due consideration to Feng Shui elements. It's our own little New York, close to the airport, a very spacious and upscale two bedroom single level attached condominium with HOA taking care of everything other than your grocery bill. Suitable more to a jet-setting executive.
What are your thoughts?
Would you buy a condominium at a million dollars because you are priced out of single family homes? Or would you move to other better rated cities like Yorba Linda that still offer some bragging rights, if not a list of them? What about cities surrounding Irvine? Would you move there if the foreign cash buyer out prices you?
Discuss on Talk Irvine: http://www.talkirvine.com/index.php/topic,3884.0.html
You are subscribed to email updates from Irvine Housing Blog
To stop receiving these emails, you may unsubscribe now.
Email delivery powered by Google
Google Inc., 20 West Kinzie, Chicago IL USA 60610