| | |
| --- | --- |
| | |
---
Posted: 05 Jul 2012 05:19 AM PDT
Last week, I reviewed 8 Brena, an older home in Northwood that was converted to a six bedroom house. This week, I saw 22 Maywood, a newer home in Northpark that was also converted to six bedrooms (originally it was five plus a bonus room).
The basics:
Asking Price: $1,150,000
Bedrooms: 6
Bathrooms: 4
Square Footage: 3,220
Lot Size: 6,068
$/Sq Ft: $357
Property Type: Single Family Home
Year Built: 2000
Community: Northpark
HOA dues are $156 per month and it has Mello Roos.
22 Maywood has all of the beautiful touches of a new home that older homes lack: crown molding, numerous windows in every room, rounded edges on the walls, arched doorways, higher ceilings, and just generally the feeling of being newer and nicer.
The home has a large entryway with high ceilings and a gorgeous, espresso-colored staircase. To the right is a big room with white built-ins along one wall that really could be used for anything. It would work as a formal living room, an office, a casual sitting room, or a playroom. It doesn't have doors or a closet, so it can't be a bedroom. To the left of the entryway is the dining room. The current owners have a fairly narrow table and chairs with seating for six, so it's a little hard to tell whether or not you could easily fit a table that seats eight to twelve guests.
The kitchen is through the dining room. As in most new homes, it is part of a large great room and features lots of cabinet and counter space, a big island, and stainless steel appliances. The side-by-side refrigerator is huge. The island connects to a built-in granite-topped dining table with seating for four or five. It flows into a family room with one wall covered in white built-in cupboards and another wall featuring a white fireplace. All rooms downstairs have dark hardwood floors that provide a nice contrast to the white cabinets and white wood blinds on the windows.
The backyard features a wooden deck with a built-in bench and a raised area that houses a table and a built-in barbecue. The raised area is partially covered by a pergola. There is also a small grassy portion surrounded by plants and flowers.
The last room downstairs is a small bedroom, currently being used as an office.
The stairs split into two directions at the top, with a bonus room to one side and the rest of the rooms to the other. The bonus has been converted to a bedroom, with the addition of a closet and blinds on the three windows that look to the inside of the home (it also has windows to the outside). Because it was originally a bonus room, it is much larger than the other bedrooms.
There are three additional bedrooms upstairs. Two are connected by a Jack and Jill style bathroom with two sinks and a shower/tub combo. One of these rooms is fairly small, but the other is a good size, as is the last upstairs bedroom. There is an additional full bath upstairs used by the other rooms. All of the bedrooms have standard sliding door closets.
The master has a retreat when you first walk in, with the bedroom area to the left and the bathroom and closet to the right. There is a fireplace between the retreat and the bedroom. Because of its location, I would be more likely to use the retreat as a sitting area than an office or an exercise room, but it is big enough to work as any of these. The current owners actually have a twin bed and large TV in there. The bedroom is on the smaller side, as far as master bedrooms go, and there isn't really a lot of room for much furniture besides the bed and nightstands. The walk-in closet is big though and has room for a dresser or two.
The master bath features separate sinks, a large tub and separate shower, plus a vanity area. The tub is really pretty, with a dark bamboo-style siding and step. The only thing I dislike about it is how close the shower is to the retreat; I always prefer more separation between the bedroom and the bathroom.
In general, this home is exquisite. There is very little to dislike about it, as everything is superbly maintained, well designed, and really beautiful. When comparing it to 8 Brena, everything about 22 Maywood is newer and nicer. Nothing about this home needs updating or remodeling, and nothing about it felt tired or old. This house is about 200 square feet bigger and the lot is 1000 square feet bigger. Northpark is a gated community whereas Woodside, where 8 Brena is located, is not. For some, this may be a bonus; for others, it might not matter. While 8 Brena has a lower asking price, the quality of the home definitely reflects the difference. 8 Brena does have two things in its favor: a lack of Mello Roos tax and an address in the Irvine Unified School District. Otherwise, 22 Maywood wins hands down.
Discuss below or on Talk Irvine.
Assemblymember Don Wagner on Reducing Your Water Bill
Posted: 04 Jul 2012 10:25 AM PDT
"A typical user uses more water outside than inside."—Don Wagner
"Every day the average American pours, flushes, and sprinkles 40 to 130 gallons of water at home. Using simple conservation measures, that amount could be reduced by 14 to 39 gallons, or 30 percent. For 7 million customers, that's a savings of 98 to 273 million gallons. ."—Irvine Ranch Water District
"The biggest segment of home water use goes to irrigation. Sprinklers, lawn and landscape irrigation. Anything we can do to cut back on that … those are some of the best things we can do. …
In the house, toilets and showers, those are the biggest ones. More efficient toilets, shorter showers, all the usual stuff."—Jay Famiglietti, UCI Earth System Science professor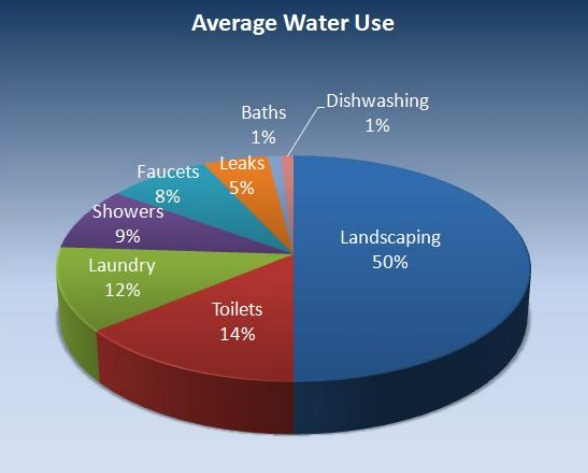 Last week I wrote that the Irvine Ranch Water District (IRWD) rates are increasing. That being the case, you might be interested in reducing your water usage. If so, following are some tips from a campaign flyer that Irvine's California assembly member, Don Wagner, sent out before the election. Wagner's tips are quoted directly from his campaign flyer. The comments in italics are mine.
Outside:
Water your lawn and plants for 15 minutes, 4 times a week. If you water during the heat of the day, you lose a lot to evaporation and plants won't get the moisture they need. More plants actually die from over-watering than under-watering. If you water after dusk and before 5:00 a.m., you cut down on wasted water.
IRWD suggests a much shorter watering period and points out that your watering needs will increase and decrease with the seasons and weather (IRWD Watering Chart). Also make sure that your sprinklers are aimed properly so you're not watering the sidewalk or driveway. Savings: 500 gallons/month
Use a broom to sweep up the sidewalk and driveway, rather than a hose. Savings: 150 gallons each time
Replace your garden with water-efficient plants. Savings: cuts usage in half
IRWD suggests using drip systems for your garden and shrubs. In addition, replacing your lawn as well as your garden (or part of your lawn) with water-efficient plants will reduce your water use. At one time, lawns were large enough that it was possible to play catch or some other activity in the yard. However, today most lawns in Irvine are not that large; so you might as well have a low-maintenance, water- thrifty yard.
Indoors:
While brushing your teeth, shaving, washing the cat, doing dishes, etc. shut the water off until you need it. Savings: 200-300 gallons/month
Fix plumbing joints and leaky faucets. Savings: 600 gallons/month
Run only full loads when washing clothes and dishes. Savings: 300-800 gallons/month
Reduce shower times by one of two minutes. Savings: 700 gallons/month
Install low flow showerheads. Savings: 500-800 gallons/month
IRWD also provides some tips on saving water in your home and yard. Since water is IRWD's business, the IRWD tips tend to go into much more detail. In addition, IRWD provides a rebate list.
Note: IRWD serves homes and businesses that are located in Irvine, portions of the cities of Lake Forest, Portola Hills, Foothill Ranch, Newport Coast, Tustin Ranch, Newport Beach, Costa Mesa, Orange and portions of unincorporated Orange County
Related post: "IRWD Helps Customers Save Water and Money,"
You are subscribed to email updates from Irvine Housing Blog
To stop receiving these emails, you may unsubscribe now.
Email delivery powered by Google
Google Inc., 20 West Kinzie, Chicago IL USA 60610